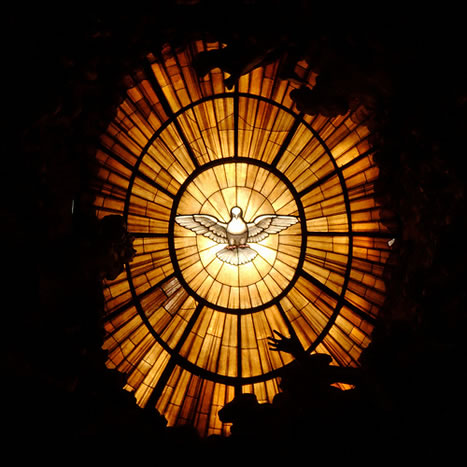 During my homily yesterday, I asked parishioners to mark the old Octave of Pentecost by praying to the Holy Spirit each day for the next eight days. Join us in prayer!
Fr. Gaurav's homework for the week: For the 8 days from Pentecost, i.e. until this coming Sunday, pray every day to the Holy Spirit: to make you holy, to free you from the burden and chains of sin, to heal you, to make Christ more central to your life, to be given the courage to be disciples who live the Gospel and spread the Gospel. Pray together as friends or family!
For this week, the daily Masses will be Votive Masses to the Holy Spirit (where there isn't a Memorial on the liturgical calendar). I will be praying for a deep outpouring of the Spirit in our parish!
Here's a prayer to the Holy Spirit
La tarea de P. Gaurav para esta semana: recen al Espíritu Santo cada día de esta semana, desde ayer (Pentecostés) hasta el próximo domingo. Recen para que el Espíritu te hagas santo, te liberes de las cadenas de pecado, te sanes, para que Cristo sea más en el centro de tu vida, que recibas la fortaleza de ser discípulos que viven el Evangelio, y lo compartan con lo demás. Recen juntos como amigos, o una familia!
Para esta semana, las misas diarias serán Misas Votivas al Espíritu Santo (excepto cuando haya una Memoria en el calendario litúrgico). Yo voy a rezar para una profunda efusión del Espíritu en nuestra parroquia!
Aquí es una oración al Espíritu Santo, de S. Agustín
Espíritu Santo, inspíranos, para que pensemos santamente.
Espíritu Santo, incítanos, para que obremos santamente.
Espíritu Santo, atráenos, para que amemos las cosas santas.
Espíritu Santo, fortalécenos, para que defendamos las cosas santas.
Espíritu Santo, ayúdanos, para que no perdamos nunca las cosas santas