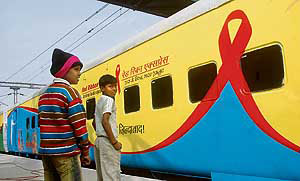 Pope Benedict urged more efforts to combat the disease, as well as compassion for those suffering
during Wednesday's General Audience
.
For some reason, it seems, HIV/AIDS doesn't cause quite the stir as it perhaps used to once. Is there a sense of complacency in combating the spread of the disease, now that there is sense that new medications are changing this to a chronic illness rather than the death-warrant it was not too long ago?
That is of course not true at all in the developing world. But even here in the United States, the news is far from cheerful: the first time the government of the District of Columbia compiled statistics on those with AIDS in the nation's capital,
there was sobering news
: 1 in 20 has HIV, 1 in 50 AIDS;
80%
of those infected are African American (who make up
507%
57% of the District's population).
And today, the papers are full of stories that the CDC might be revising its statistics upwards when it comes to the number of people infected by HIV every year in the United States;
upwards by 50%
!
In China, the government is increasing education and prevention efforts, in a departure from past practices. Here's a story from the
official Xinhua news agency
.
South Africa, "ground zero" if you will for the number of HIV infections seems to be having some success in p
roviding access to retroviral therapies to patients
.
And #2 in estimated HIV infections, India, UPA Chairperson Sonia Gandhi flagged off a special
"Red Ribbon Express
" (photo above) that will be traveling the country to spread prevention awareness.
The Catholic Church in India is
organizing some million young peopl
e to "take an oath to educate themselves and others with accurate information on HIV, to be personally responsible not to spread the virus, to avoid discrimination against people living with HIV and to care for all those affected and infected."
The Franciscans have a
series of prayers online for World AIDS day
, based on the Prayer of St. Francis.
The Archbishop of Canterubury, Dr. Rowan Williams, on World AIDS Day. [Via
the Corner
]