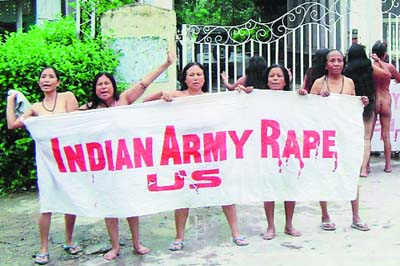 Photo courtesy Tribune India
Sorry for the shocking, graphic photo. Context from Amit Verma's brilliant article,
The Republic of Apathy.
In some parts of the country, remote from our cities and our consciousness, the government treats the people as the empire once treated us. Do you remember a photograph from three years ago, of a group of Manipuri women outside the entrance of the Kangla Fort, which was occupied by the Indian army? They were protesting the gang rape and murder of a 32-year-old woman named Thangjam Manorama, who had been picked up from her house in the middle of the night by the army. Frustrated that no one cared to listen to them, that the law-and-order mechanism existed only for the rich and powerful, 12 of these women stripped naked, and held in front of them a banner that said, "Indian Army, Rape Us."

I suspect had that image been taken in 1930, and had that banner said "British Army, Rape Us," it would have been one of the defining images of our struggle for freedom. Today, no one cares. Across the country, law and order is a joke, and our government fattens itself on the sweat of a billion people. Free speech is endangered, and censorship thrives. Honest men wishing to start a business that will fulfil the needs of others - as all businesses must in order to survive - find themselves having to deal with licenses and inspectors.

The price of freedom, it is often said, is eternal vigilance. We let our guard down 60 years ago. Perhaps it's time to fight back?